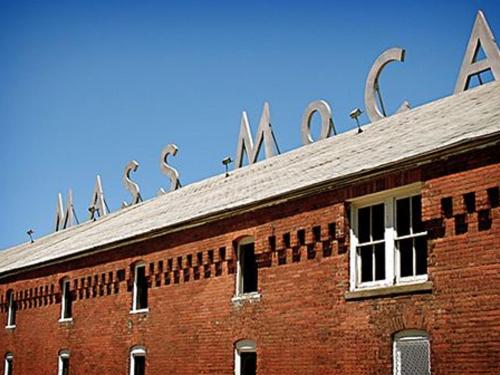 MASS MoCA is unlike any art museum I have ever visited. If you are a fan of modern art and are searching for the next big thing then you need to head up to North Adams, MA on your next trip to the Berkshires.
Since its opening day of May 30, 1999 MASS MoCA has transformed the expectation of a day at the museum from dull and routine to colorful liberation. This sprawling campus of 13 acres takes up one third of North Adams business district and gives its visitors an abundance of galleries, theatres, and court yards to traipse through.
The bare structure of the museum is due to the renovated industrial factory that gives each of the 19 galleries a very personal and original space with hardwood floors, visible steel structure, and soaring cathedral ceilings. Because of its unique property, MASS MoCA has artists from all over the world inspired to create art as large as life. And believe me, they have done so. With one of the eccentric galleries expanding to the length of a football yard there is no reason to limit imagination.
One can spend an entire day meandering through the vast corridors, bridges, and walkways without monotony creeping in. Every turn seems to open up to another world. Once you have seen everything be sure to stop in to the café for a delicious meal and re-energize. Then head over to the gift shop to find your favorite prints or books on the displayed artists.
For more information on upcoming events and concerts please follow the link below!