Did You Know? - Historical Trivia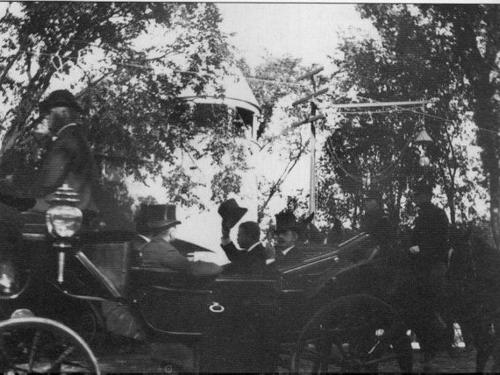 While visiting the Berkshires in western Massachusetts, make sure to head into the city of
Pittsfield. Just ten minutes north of the Yankee Inn, Pittsfield is the third largest city of western Mass and has recently undergone an inspiring renovation that will awaken your senses with exotic flavors, artistic flair for music and creative shopping experiences.
In 1902, Pittsfield was pretty inspiring, General Electric was up and running and the city was growing by the thousands. On September 3, 1902 a very special guest, the 26th President of the United States had even made a visit to the picturesque township. Theodore Roosevelt was traveling through New England territory on a two week tour to campaign for the Republican vote. The streets were lined with the energetic citizens of Pittsfield all cheering and waving. The streets themselves were filled with the president's procession and zipping trolleys.
The procession was from Park Square and down route 7 to the Pittsfield Country Club. A
wonderful day turned to tragedy when the Presidents barouche, a fashionable open air horse and carriage, collided with a speeding trolley. The town was thrown into chaos; screaming and gasping as they could not do anything but watch the trolley slam into the carriage. Luckily the president was thrown far enough out of the way of the panicked horses and only obtained minor scrapes and facial bruising. He did however end up with some damage to his left shin putting him in a wheel chair for quite some time afterwards. Unfortunately there was one death; Secret Service Agent William Craig was killed immediately when thrown into the street. He was in fact the first ever Secret Service Agent to be killed during presidential protection duty. The other members of the carriage, Massachusetts Governor Winthrop Crane and the secretary to the President, George Bruce Cortelyou were left unscathed. The trolley driver, Euclid Madden was charged with Manslaughter, which he pled guilty too, and received the appropriate punishment, six months in jail and a large fine.
So there you have it! Now when people talk about the famous presidential trolley accident you have the
facts to pipe in!
Visit next week for more Berkshire County trivia to stump friends and family!