Herman Melville?s Arrowhead ? Cultural Berkshires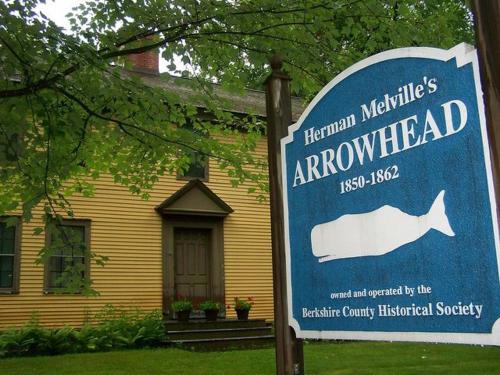 If you a big fan of American literature or history, you have to visit the house of one of the most important American writers – Herman Melville. Herman Melville, originally from New York City, was looking for some quiet place to put together his thoughts and be able to write. In the summer of 1850, the Berkshires and Pittsfield, in particular, became that perfect place, which inspired the big author to create his most famous works. He named the old farm house Arrowhead after the native relics he discovered as he was plowing the fields. The home would remain his for the next 13 years.
"Arrowhead influenced Melville greatly in his writing. The view of Mount Greylock from his study window, the one that brought him to Arrowhead, was said to be his inspiration for the white whale in Moby-Dick. He dedicated his next novel, Pierre, to Mount Greylock. His short story, "The Piazza," begins at Arrowhead and takes a magical journey to the mountain."
The Melville family owned the house until 1927. Today, Arrowhead is a house museum dedicated to telling Melville's story, owned and operated by The Berkshire Historical Society.
During summer time, Arrowhead has multiple exhibits, readings, and meetings. Right now, they have 2 events going on:
June 17 – October 9, 2012: "So far from home: Whalers and Whaler Art". "The exhibit explores how Polynesian artworks influenced the art of visiting whalers like Melville, with a display of images, text, scrimshaw, tattoos, and Polynesian art and artifacts."
August 4 – October 15, 2012: "The Confidence-Man". "The exhibit is a series of paintings by Douglas Paisley inspired by Melville's last major novel, The Confidence-Man, which he wrote in the same house in Pittsfield where he completed Moby Dick."
If you think that this is something you might be interested in, come and visit Arrowhead! The great thing is that it's only about 1.5 miles from the Yankee Inn! I would recommend taking a guided tour because this is the only way to see the house from the inside. Open Daily Memorial Day Weekend to Columbus Day from 9:30 am to 5:00 pm. Tours Hourly from 10 am-4 pm. Tours are available off-season by appointment.