Pleasant Valley - Outdoor Activities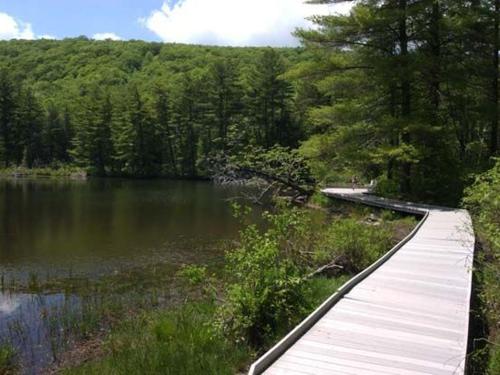 Last weekend, I wanted to do something special. Shopping or even going out for lunch did not seem enough, so I offered to my family to go to the Pleasant Valley Wildlife Sanctuary in Lenox, MA. None of us had been there before. What a wonderful and peaceful experience it was for us! It is a great nature center for the entire family.
Seven miles of trails that wind through hardwood forest, meadows, wetlands, and along the slopes of Lenox Mountain make this site an excellent location for hiking. We walked several of the easy trails enjoying the beautiful nature around us. The trails are very well maintained and marked. They have the broad variety of difficulty levels. They even have an "all persons" trail, which offers the opportunity for anyone to enjoy the great outdoors. We were fortunate enough to spend several minutes watching a beaver bask in the sun, before swimming away.
The educational programs are terrific. We have done canoe trips on the Housatonic River and a bat talk. There were children's camps going on while we were there. The counselors and the children were so polite and eager to share with us what they were experiencing out in the wilderness. My nephews also have done the day camp and they loved it.
It's a short hike from the main road to get the feeling you are deep in the woods. Be sure to check in at the office. There is a nominal fee to use the trails. It's free for Massachusetts Audubon Society members. See the white board outside the office to find out what kinds of critters have been spotted recently.
Their website is quite helpful and updated frequently to announce programs and activities at the sanctuary. I cannot wait to another weekend in October to try some of the other trails. It must be absolutely beautiful in the fall time!