Windsor Jambs - Falls in the Berkshires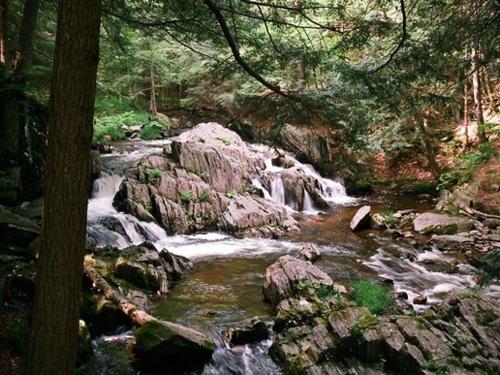 When I'm on the hunt for a nice outdoor location to relax, I always try to find somewhere secluded and a bit out of the way. I love being at Onota, Pontoosuc or Laurel Lake but the summertime can be rather crowded at those locations. For me, it doesn't get much better than Windsor Jambs located off Route 9 in the Windsor State Forest in Windsor and parts of Cummington.
The Jambs are approximately a 45 minute ride from the Yankee Inn, but well worth the trip. The ride through Dalton and into Windsor provides some great scenery in The Berkshires as well as being able to see a few small towns. With a little luck, you may be able to see some of the wildlife The Berkshires have to offer!
The Jambs themselves are never really heavily trafficked in my experiences there, unlike Wahconah Falls or Pittsfield State Forest. There are plenty of locations for one to hike, swim or just relax. Trails and old dirt roads that wind through the "The Bush" are favored by hikers, cross-country skiers and snowmobiles (winter time). If you decide to visit there, you should bring a camera for taking pictures of the beautiful 25 foot with 80 foot high granite walls and the beautiful waterfalls flowing through there. There is also a 100 foot long sandy beach where guests can enjoy swimming. Make sure to bring some food because picnicking is allowed and encouraged!
So If you're looking to add a unique, outdoor experience during your visit to The Berkshires away from some of the hustle and bustle, I highly encourage a day trip to Windsor Jambs. It's the ideal location for relaxing, unwinding and getting in touch with nature during your vacation.